Anger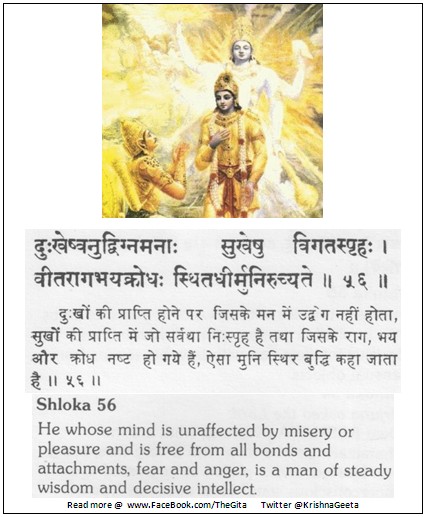 Chapter – 2 – Shloka – 56
He whose mind is unaffected by misery or pleasure and is free from all bonds and attachments, fear and anger, is man, of steady wisdom and decisive intellect.
दुःखों की प्राप्ति होने पर जिसके मन में उद्बेग नहीं होता, सुखों की प्राप्ति में जो सर्वथा नि:स्पृह है तथा जिसके राग, भय और क्रोध नष्ट हो गये हैं, ऐसा मुनि स्थिर बुद्भि कहा जाता है ।। ५६ ।।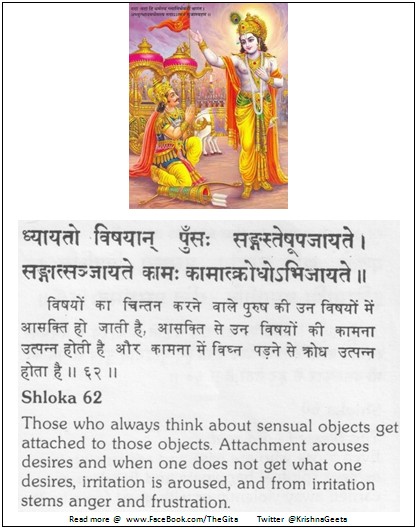 Chapter – 2 – Shloka – 62
Those who always think about sensual objects get attached to those objects. Attachment arouses desires and when one does not get what one desires, irritation is aroused, and from irritation stems anger and frustration.
विषयों का चिन्तन करने वाले पुरुष की उन विषयों में आसक्त्ति हो जाती है, आसक्त्ति से उन विषयों की कामना उत्पन्न होती है और कामना में विघ्न पड़ने से क्रोध उत्पन्न होता है ।। ६२ ।।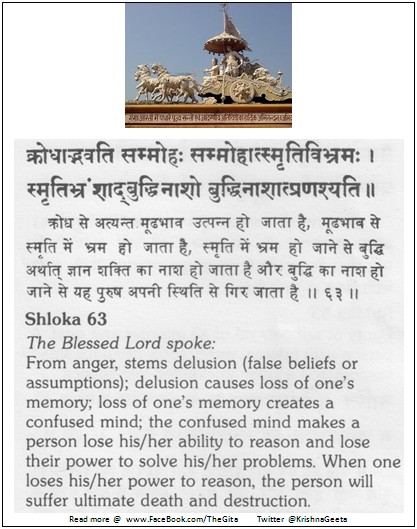 Chapter – 2 – Shloka – 63
The Blessed Lord spoke:
From anger, stems delusion (false beliefs or assumptions); delusion causes loss of one's confused mind; the confused mind makes a person lose his/her ability to reason and lose their power to solve his/her problems. When one loses his/her power to reason, the person will suffer ultimate death and destruction.
क्रोध से अत्यन्त मूढ़भाव उत्पन्न हो जाता है, मूढ़भाव से स्मृति में भ्रम हो जाता है, स्मृति में भ्रम हो जाने से बुद्भि अर्थात् ज्ञान शक्त्ति का नाश हो जाता है और बुद्भि का नाश हो जाने से यह पुरुष अपनी स्थिर से गिर जाता है ।। ६३ ।।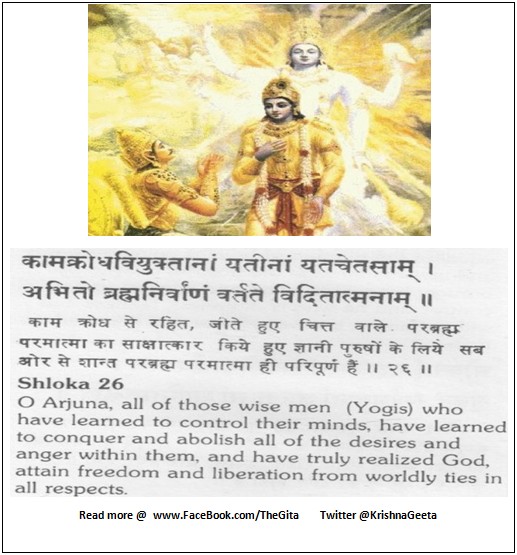 Chapter – 5 – Shloka – 26

O Arjuna, all of those wise men (Yogis) who have learned to control their minds, have learned to conquer and abolish all of the desires and anger within them, and have truly realized God, attain freedom and liberation from worldly ties in all respects.
काम क्रोध से रहित, जीते हुए चित्त वाले परब्रह्म परमात्मा का साक्षात्कार किये हुए ज्ञानी पुरुषों के लिये सब ओर से शान्त परब्रह्म परमात्मा ही परिपूर्ण हैं ।। २६ ।।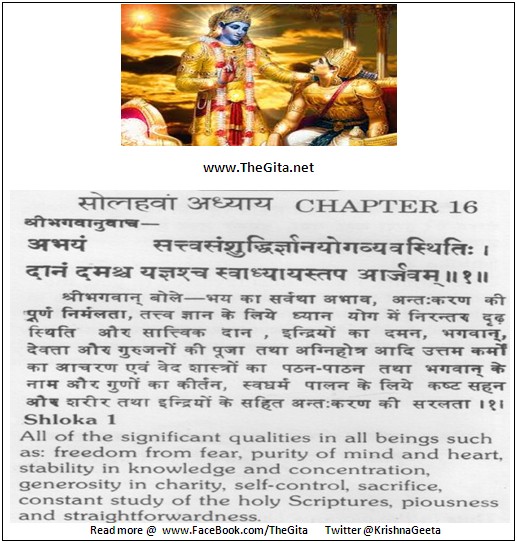 Chapter – 16 – Shloka – 1

All of the significant qualities in all beings such as: freedom from fear, purity of mind and heart, stability in knowledge and concentration, generosity in charity, self-control, sacrifice, constant study of the holy Scriptures, piousness and straightforwardness.
श्रीभगवान् बोले —–भय का सर्वथा अभाव, अन्त:करण की पूर्ण निर्मलता, तत्व ज्ञान के लिये ध्यान योग में निरन्तर दृढ. स्थिति और सात्विक दान, इन्द्रियों का दमन, भगवान्, देवता और गुरुजनों की पूजा तथा अग्निहोत्र आदि उत्तम कर्मों का आचरण एवं वेद शास्त्रों का पठन-पाठन तथा भगवान् के नाम और गुणों का कीर्तन, स्वधर्म पालन के लिये कष्ट सहन और शरीर तथा इन्द्रियों के सहित अन्त:करण की सरलता ।। १ ।।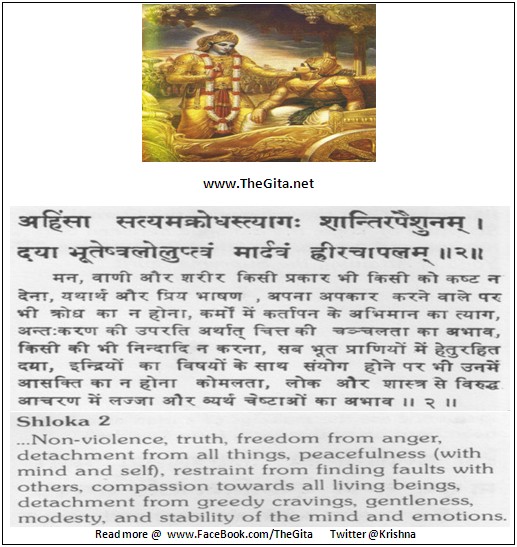 Chapter – 16 – Shloka – 2

Non-violence, truth, freedom from anger, detachment from all things, peacefulness (with mind and self), restraint from finding faults with others, compassion towards all living beings, detachment from greedy craving, gentleness, modesty, and stability of the mind and emotions.
मन, वाणी और शरीर किसी प्रकार भी किसी को कष्ट न देना, यथार्थ और प्रिय भाषण, अपना अपकार करने वाले पर भी क्रोध का न होना, कर्मों में कर्तापन के अभिमान का त्याग, अन्त:करण की उपरति अर्थात् चित्त की चञ्चलता का अभाव, किसी की भी निन्दादि न करना, सब भूत प्राणियों में हेतुरहित दमा, इन्द्रियों का विषयों के साथ संयोग होने पर भी उनमें आसक्ति का न होना कोमलता, लोक और शास्त्र से विरुद्भ आचरण में लज्जा और व्यर्थ चेष्टाओं का अभाव ।। २ ।।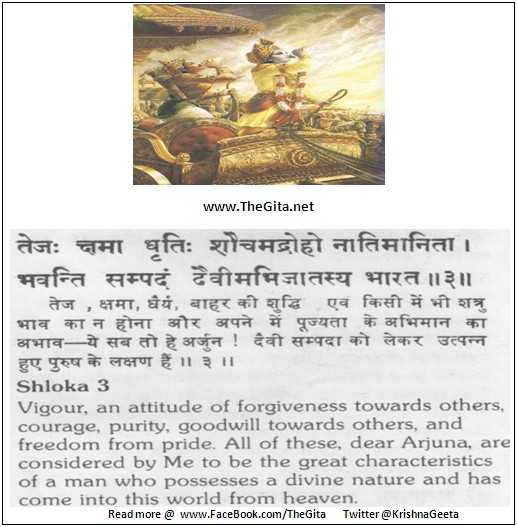 Chapter – 16 – Shloka – 3

Vigour, an attitude of forgiveness towards others, courage, purity, goodwill, towards others, and freedom from pride. All of these, dear Arjuna, are considered by Me to be the great characteristics of a man who possesses a divine nature and has come into this world from heaven.
तेज, क्षमा, धैर्य, बाहर की शुद्भि एवं किसी में भी शत्रु भाव का न होना और अपने में पूज्यता के अभिमान का अभाव —–ये सब तो हे अर्जुन ! दैवी सम्पदा को लेकर उत्पन्न हुए पुरुष के लक्षण हैं ।। ३ ।।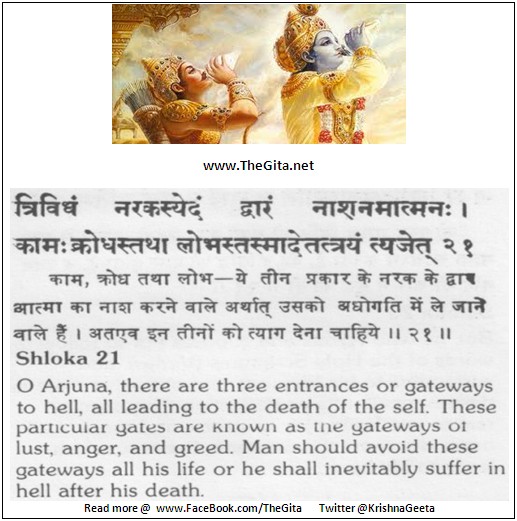 Chapter – 16 – Shloka – 21

O Arjuna, there are three entrances or gateways to hell, all leading to the death of the self. These particular gates are known as the gateways of lust, anger, and greed. Man should avoid these gateways all his life or he shall inevitably suffer in hell after his death.
काम, क्रोध तथा लोभ — ये तीन प्रकार के नरक के द्वार आत्मा का नाश करने वाले अर्थात् उसको अधोगति में ले जाने वाले हैं । अतएव इन तीनों को त्याग देना चाहिये ।। २१ ।।
Anger