Lust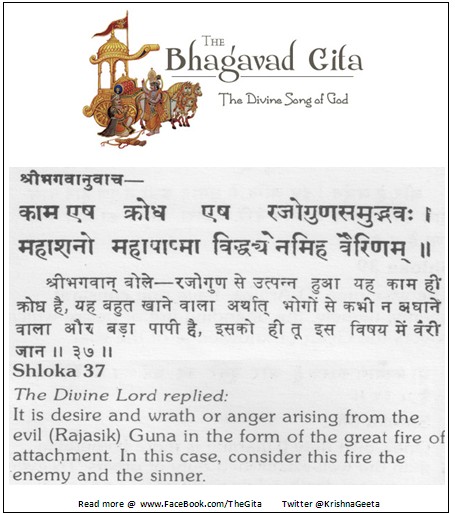 Chapter – 3 – Shloka -37
Arjuna asked the Lord:
O Lord Krishna, what motivates a person to commit sins that were committed involuntarily or by the force of others?
अर्जुन बोले —- हे कृष्ण ! तो फिर यह मनुष्य स्वयं न चाहता हुआ भी बलात्कार से लगाये हुए की भांति किससे प्रेरित होकर पाप का आचरण करता है ।। ३६ ।।
Chapter – 3 – Shloka -43
Therefore, Oh Arjuna, knowing that your soul is stronger than your intellect, and being aware that the intellect controls the mind, destroy that invincible and dominating enemy known as desire.
इस प्रकार बुद्भि से परे अर्थात् सूक्ष्म, बलवान् और अत्यन्त श्रेष्ठ आत्मा को जान कर और बुद्बि के द्वारा मन को वश में करके हे महाबाहो ! तू इस काम रूप दुर्जय शत्रु को मार ड़ाल ।। ४३ ।।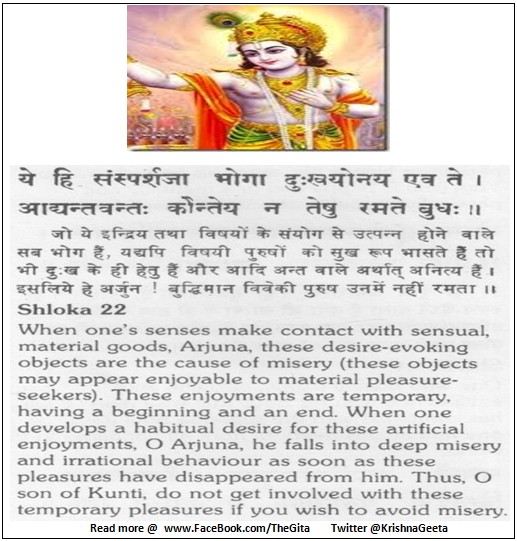 Chapter – 5 – Shloka -22
When one's senses make contact with sensual, material goods, Arjuna, these desire-evoking objects are the cause of misery (these objects may appear enjoyable to material pleasure-seekers).
These enjoyments are temporary, having a beginning and an end. When one develops a habitual desire for these artificial enjoyments. O Arjuna, he falls into deep misery and irrational behaviour as soon as these pleasures have disappeared from him.
Thus, O son of Kunti, do not get involved with these temporary pleasures if you wish to avoid misery.
जो ये इन्द्रिय तथा विषयों के संयोग से उत्पन्न होने वाले सब भोग हैं, यद्यपि विषयी पुरुषों को सुख रूप भासते हैं तो भी दुःख के ही हेतु हैं और आदि अन्त वाले अर्थात् अनित्य हैं । इसलिये हे अर्जुन ! बुद्भिमान विवेकी पुरुष उनमें नहीं रमता ।। २२ ।।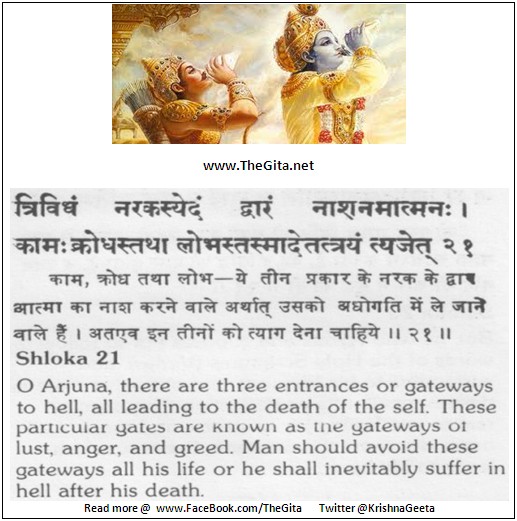 Chapter – 16 – Shloka -21
O Arjuna, there are three entrances or gateways to hell, all leading to the death of the self. These particular gates are known as the gateways of lust, anger, and greed. Man should avoid these gateways all his life or he shall inevitably suffer in hell after his death.
काम, क्रोध तथा लोभ — ये तीन प्रकार के नरक के द्वार आत्मा का नाश करने वाले अर्थात् उसको अधोगति में ले जाने वाले हैं । अतएव इन तीनों को त्याग देना चाहिये ।। २१ ।।
Lust